The Ghadar- a Punjabi word for revolution was a revolutionary movement organised by Punjabi immigrant workers in California with its headquarters at 5 Wood Street, San Francisco. Launched formally in 1913 with a weekly newspaper, Gadar, the movement quickly spread through several continents in a short span of two years.

Facing harsh immigration laws, restrictive and discriminatory policies and social exclusion by the white community, most Punjabis who had migrated to Pacific States felt humiliated. After their appeals to British Government failed to elicit any positive response, they were forced to find a solution, ably led by Lala Har Dayal, they organised a rebellion dedicated to the liberation of India from imperial rule.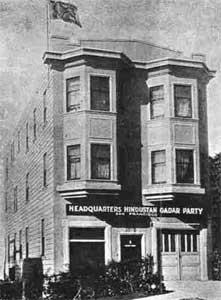 Memorial Building

The original headquarters of the Ghadar Party are in San Francisco where a new building erected after the demolition of 5 Wood Street preserves the Ghadar legacy. However as a majority of Ghadarites were Punjabis, it was a befitting that Punjab should house the main memorial to the Ghadar heroes. As India attained freedom in 1947, the surviving Ghadarites decided to erect a suitable memoir for their colleagues. The site chosen was Jalandhar in Doaba and construction of the Memoir was started by buying a prime land in 1955. Its foundation stone was laid on 17th November 1959 by a Ghadr veteran, Amar Singh Sandhwan.